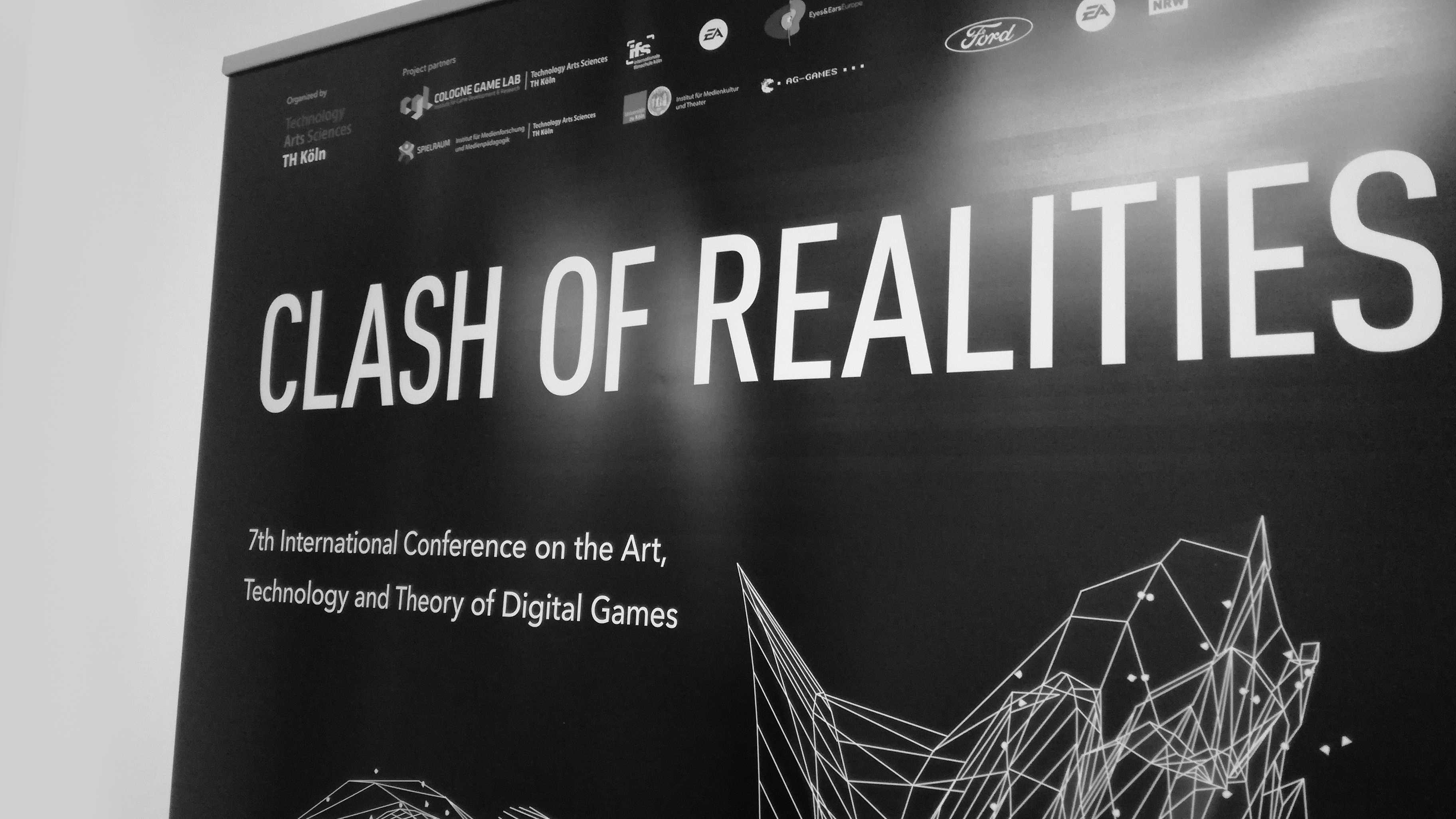 Am 15.11 & 16.11 habe ich die Fachkonferenz "Clash of Realities" in Köln besucht!
Hinsichtlich meiner bevorstehenden Masterthesis an der msd (FH Münster / Fachbereich Design) habe ich die Fachkonferenz Clash of Realities – 2016 besucht. Ich war wirklich begeistert von dem Themenspektrum und kann diese Konferenz nur jedem wärmstens empfehlen, der sich für das Design, Technologie und Theorie hinter digitalen Spielen interessiert!
Am ersten Tag der Konferenz (14.11) konnte ich leider nicht anwesend sein. Aber ich war an dem sogenannten "Summit Day" anwesend.
Am Summit Day wurden Vorträge in bestimmte Themenbereiche gegliedert. Ich habe mir, hinsichtlich meiner Masterarbeit, Vorträge zum Thema "Digital Games as Social Environments  – Media Education/Ethics" angehört. Herausstechend fand ich den Vortrag von Emma Witkowski (Smack talk, teamwork, and playing for keeps: weighing in on some bodies that matter in the serious pursuit of E-sports) und den Vortrag von Kelly Boudreau (Beyond the Multi-player: Exploring Sociality in Single Player Videogames).
Vom Hauptkonferenztag sind mir besonders die Vorträge von David O'Reilly (Everything and You), Colleen Macklin (Systems and Sensibilities: Stories from Serious Games) und von Miguel Sicart (Play, games, and the good life) im Kopf geblieben. Am interessantesten fand ich allerdings die Diskussionen die nach allen zwei Vorträgen stattfanden. Hierbei haben sich verschiedene Vortragende auf der Bühne über ein Thema unterhalten. Hierbei konnte man gut die verschiedenen Standpunkte der einzelnen Referenten sehen.